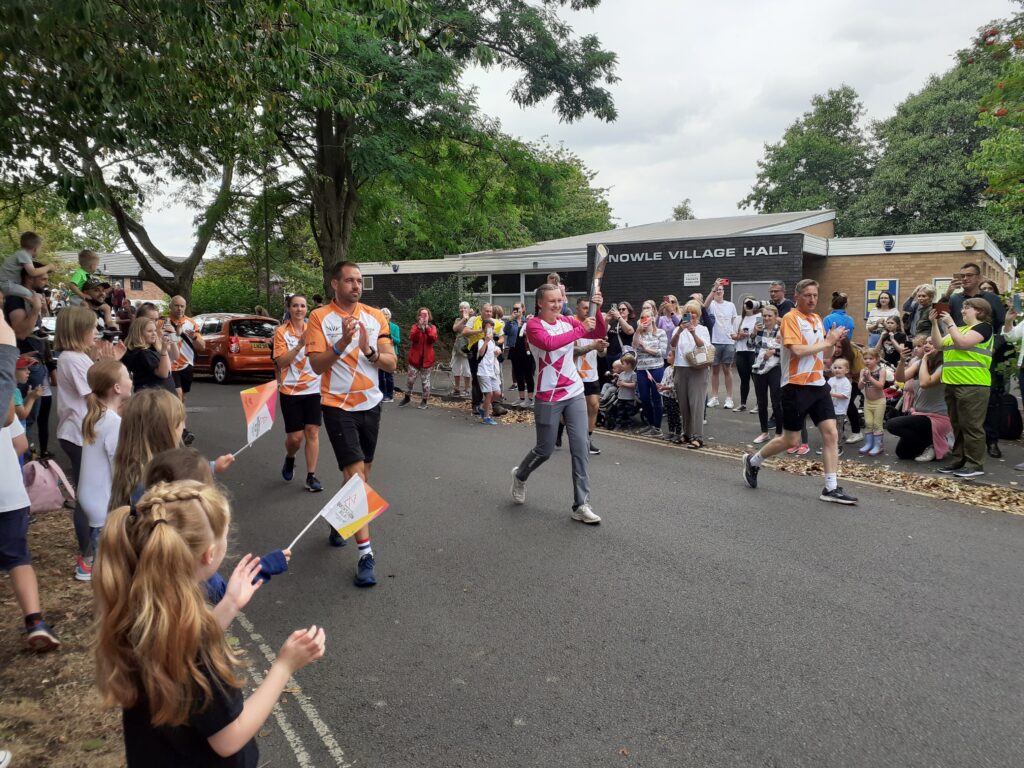 Cheering the Queen's Baton Relay outside Knowle Village Hall on 26th July 2022.
Knowle Village Hall has been meeting the needs of our local community for over 60 years. Opened in 1961, the Hall has benefited from a number of extensions and has recently been completely refurbished and modernised.
The Hall's central location, at the heart of Knowle, means it has the benefit of being close to all the High Street shops, restaurants and cafes. It is adjacent to several public car parks (including electric charging points).
How to find us
Our Address: Knowle Village Hall, St. John's Close, Knowle, Solihull, B93 0NH
The Hall is 1.5 miles away from the M42 Junction 5 and approximately 3.5 miles to the east of Solihull town centre.  Nearby bus stops provide frequent transport links to Solihull Station and Dorridge Station.
You can view our location in the centre of Knowle on Google Maps.
Booking Enquiries
To hire the Maple Hall (our main hall) or our smaller meeting rooms please discuss your requirements with the Bookings Manager on 01564 778163 (Monday – Friday between 9am & 8pm) or click here to contact us.
What's happening at the Village Hall:
As we move into the post COVID-19 pandemic era, the Hall is back open for hiring. Our Affiliate groups have re-started their regular bookings and enquiries for other bookings are welcome.
During the lockdown period we've taken the opportunity to continue our work on improving the hall, the lounge and the kitchen, and fundraising events to enable further improvements are under way.
Information about the Village Hall Affiliate groups' regular programmes can be found on the Affiliates page.
Information about Upcoming Events can be found here.